After participating in the 2021 Bimworld show, the Teamoty team will be delighted to meet you again for this 2022 edition, which will take place on 5 & 6 April at Paris Expo – Portes de Versailles.
Bimworld, a must-attend exhibition for the building industry.
The Bimworld exhibition is a reference for local authorities and professionals in the sector. The aim of this exhibition is to present the best solutions and practices to meet the challenges of the construction sector.
The challenges of the sector are numerous and the players are looking for solutions to optimise and develop their practices.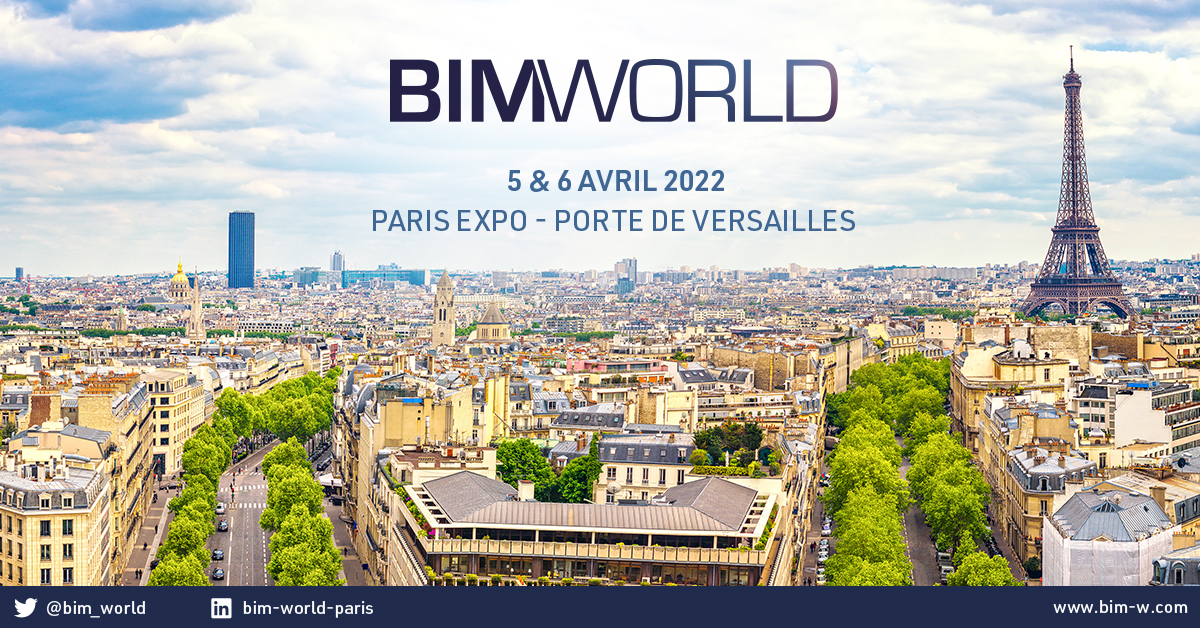 Meet us on our stand and download your free invitations.
Meet our team on its stand D68/E69 from 5 to 6 April.
To download your free invitations, go to the Bimworld website and use our code B22E955.
Discover our programme at Bimworld.
Take advantage of our mini-conferences, feedback and demonstration workshops to learn about our solutions and improve your practices.
Teamoty's mini-conferences with construction experts.
5 April 2022 at 14:30 / stand D68/E69: Construction 4.0 with Dorra Kar Karmaoui
Conference of Dorra Karmaoui, PhD student at Centrale Lille.
5 April 2022 at 4.30 pm / stand D68/E69: Construction supplychain 4.0 with Jérôme Rouge
6 April 2022 at 1.30 pm / stand D68/E69: Lean Construction with Fabien Font and Zoubeir Lafhaj
Conference with Fabien Font, author of the book "Lean construction: optimising costs, quality, safety and deadlines in collaborative mode", Co-founder and director of
Teamoty
.
With Zoubeir Lafhaj, teacher-researcher at Ecole Centrale Lille and holder of the industrial research chair "Construction 4.0
6 April 2022 at 3.30 pm / stand D68/E69: Industrialisation and data strategy with Fanny Brunet
Conference by Fanny Brunet, senior engineer at Bouygues Bâtiment France Europe on the SmartFabrik project, the "Building differently" division to consolidate the company's methods and tools.
Feedback from our clients and users.
5 April 2022 at 10.30 am / stand D68/E69 : Teamoty Scheduling
With, Stéphanie Frasca, TCE Planning Manager, DUMEZ Île-de-France
6 April 2022 at 11.30 am / stand D68/E69 : Teamoty Logistics
With Mehdi Bezzaouia, Logistics Project Manager, EAS SERVICES
Demonstration workshops of our Teamoty software
5 April 2022 at 12pm / room 8: Optimise your project schedules
Discover how to manage the supplychain with Teamoty Scheduling. With our software, optimise the planning and monitoring of your construction projects with ease. Teamoty Scheduling brings collaboration and performance from the design phase to site monitoring based on the Lean Construction methodology.
Speaker : Julie Tirruel, Digital Solutions Consultant, Teamoty
5 April 2022 at 3.30 pm / Room 8: Digitalise waste management
Managing the sorting of waste from construction projects is a major challenge. With Teamoty Recycle, digitalise the sorting and facilitate the recovery of waste on site in a simple way and in collaboration with the project actors.
Speaker : Adrien Pourret, Operations Director, Teamoty
6 April 2022 at 10:30 am / Room 8: Manage the logistics of your projects
Optimise the logistics of your construction projects. Teamoty Logistics improves the coordination, management and monitoring of supplies and deliveries. Teamoty Logistics induces an optimal collaboration between the project actors and makes the logistic flows more efficient.
Speaker : Adrien Pourret, Operations Director, Teamoty