Serue Ingénierie is a company of around 60 employees based near Strasbourg, working mainly in the Grand Est area in France. Our mission is to reduce greenhouse gas emissions in the construction and mobility fields.
What led you to consider a Lean Construction approach as part of Serue Ingénierie's missions ?
As part of a training on the Economics of Functionality and Cooperation (Economie de la Fonctionnalité et de la Coopération – EFC), I found myself questioning our activity in construction site management. We are now facing a major problem in France, which is that 70% of construction sites are not delivered on time and often don't respect the costs or quality requirements – sometimes even the 3 issues at the same time.
This work had me thinking about how we could work differently and offer a new way to cooperate to the different stakeholders, in order to improve at least one of the three criteria, or even all three of them.
What is your approach with the world of construction ?
Serue Ingénierie has been committed to a Lean Office approach since 2014, including for example the creation of some visual management tools. The idea was to find out how these tools that turned out to be highly effective in Serue's daily life could be transposed on the construction sites to improve cooperation and allow the different interlocutors to work differently. Another issue is for the companies to meet their commitments. Our role is to support them so that they can meet these commitments, for example: how to work better together, how to improve inventory management or the site installation plan etc.
Our idea was to transpose the Lean Office approach to the construction site, hence the name Lean Construction, which led us to create the Lean Construction Institute. We have transposed the tools that we used on a daily basis in Serue on the construction sites with the desire to keep it simple and to rely on the companies' common sense.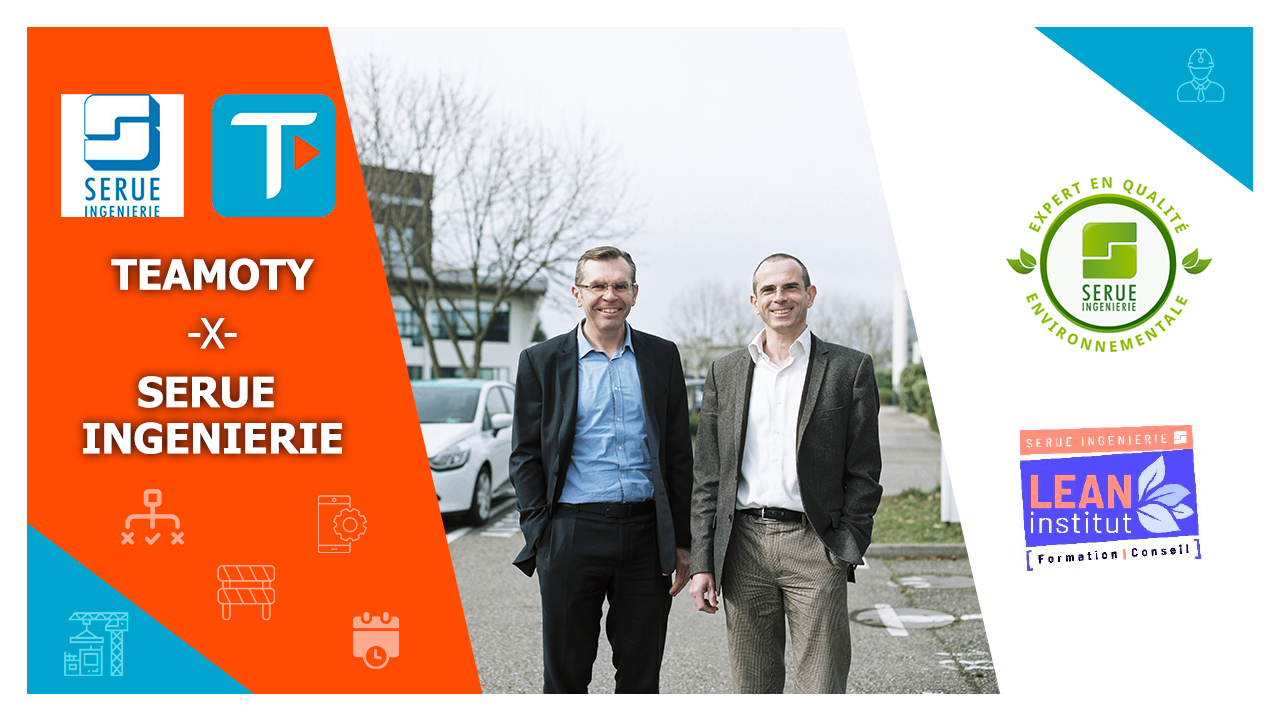 Why did you choose a digital solution like Teamoty ?
We wanted to have very simple tools that would be accessible to everyone in order to improve cooperation on the construction site. We identified that one of the keys to success was to change our scheduling tool, which is the reason why we started to use Teamoty. It is for us the most suitable tool regarding this new way of considering the construction site planning and its monitoring with a much more visual use.
What constraints has Teamoty been able to meet ?
Our initial issue was that we were changing our whole scheduling management method. In order to be conform and to be able to consider planning with this new method, we decided to use a completely different tool. Using Teamoty is very simple and really helps us to conduct our change management.
How long have you been using Teamoty ?
We are celebrating one year of using Teamoty Scheduling. We had a demonstration in December 2020 and the deployment happened in January 2021.
Does the tool meet your needs in terms of methodology change ?
Teamoty meets our needs as we want to go visual and be transparent about our schedules. Our Lean Construction method works when there is an exchange of information between all the players.
If we want companies to join, we must stick to simple tools. We first need to convince companies that they will be able to save time and money as well as reduce the penalty for workers on construction sites.
Today, would you say that Teamoty manages to reach your customers ? Are you able to use this tool in collaborative mode by integrating external people ?
It all depends on the construction sites, but that is indeed the idea and the path we are trying to follow. I say that it depends on the sites because it kind of turn upside down the way of managing it and you have to manage to involve all of the players.
Two experiments were a big success; first, the construction of a 600-space car park for a pharmaceutical group, then the Wissembourg hospital, which was a complicated project of internal renovation on a site occupied during the Covid pandemic. On this last project, we had a mission of control and coordination, and the project manager decided to select us because he was looking for a Lean Construction method. In both cases, we had project managers who were very into Lean Construction and who were an unwavering support throughout the projects.
We decided to deepen the consulting approach with companies in order to raise their awareness on the project and have them realize all the benefits they would get by joining. What matters the most is for the project managers to support us so that the companies can join the process as well.
What changes have you noticed on the tool and what is the level of support from the teams ?
It is a completely new tool and all of this wasn't just about changing our planning tool, but about changing the whole way we plan a construction site as well. Those were two big changes happening at the same time, which made the situation a bit complicated at the beginning, but with the support of Julie Tirruel from Teamoty, who was always there to support and meet employees' requests, it has been easier and smoother for our teams to take ownership of the tool and to understand how it works. The Serue Ingénierie teams have now comprehended the Teamoty tool and use it on a daily basis.
What relationship do you have with the Teamoty teams ?
We have good relations with the Teamoty teams and this feeling is shared by all of our collaborators.
What led you to contract with Teamoty ?
The other software with a GANTT feature does not meet our desire to do LPS for Lean Construction sites, so the tests were not satisfactory at all.
In the first discussions we had in order to contract with Teamoty, after the first construction sites, the kind of contract that was offered to us seemed very clear and easier to manage. We felt that it was quite possible to revise the estimates that were made at the beginning with a very simple basis and a lot of common sense. These are the points that helped us take our decision.
Your Teamoty experience in a nutshell
Teamoty allowed us to consider the idea of Lean Construction just like we had imagined it when the adventure first started.