TEAMOTY JOINS THE COMMUNITY OF COMPANIES CERTIFIED GREAT PLACE TO WORK® 2022.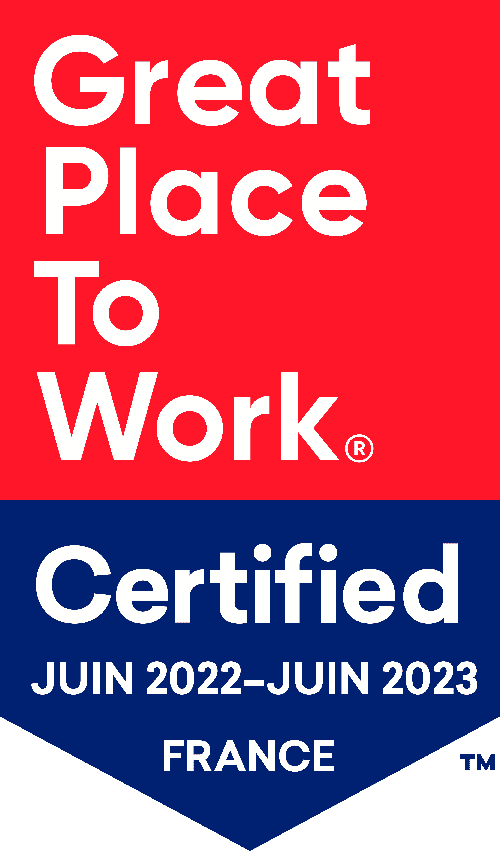 By joining this community, Teamoty wishes to show its involvement in improving the well-being of its employees and to highlight its corporate culture.
"Teamoty is a start-up that is revolutionising the world of construction. One might think that its value lies in its customers and products, but the reality is that this value is created by a team that innovates, develops and collaborates efficiently on a daily basis. Great Place to Work has been our management philosophy since the beginning, because well-being at work is essential to our revolutionary project. ''Alone we go fast, together we go further! '' » saysFabien Font, CEO of Teamoty.
This desire to provide a working environment focused on the employee experience is shared by all members of the management team, as underlined by Adrien POURRET, COO "A team is a mixture of talents and personalities. At Teamoty, we are concerned with allowing each person to express his or her full potential according to his or her desires and skills, in order to promote personal development." and Olivier LEMETTAIS, CTO : "Being a manager who listens to his or her team is an essential element for the well-being of all with a view to offering a dynamic and positive team spirit, in two words: benevolence and support.".
This certification rewards the work of all of our employees who work to forge our corporate culture and represent our values on a daily basis: collaboration, innovation, simplicity and agility. But it also rewards the management committee, which has been committed to transmitting and sharing its values since the creation of Teamoty in 2018.
Some key figures:
96% innovation: measures the ability to improve, adapt quickly and propose revolutionary ideas but also to find and produce value.
97% pride: measures the pride felt by employees in accomplishing their mission.
100% friendliness: measures how much fun people have at work and assesses the level of intimacy they have, the freedom to express themselves, the sense of hospitality in their work environment. It also highlights the feeling of being part of a community.
98% team: measures the pride employees feel in their team, its achievements and the willingness of each individual to participate in the common effort.
These figures reflect a strong mindset and culture, with 97% of our employees responding positively to the survey.
This label also reinforces Teamoty's employer brand image in a context of development and at the dawn of new recruitments.
About Teamoty
Founded in 2018, Teamoty is a start-up specialising in construction tech. It creates and deploys a software suite designed to digitalise the supply chain of construction projects. With a staff of 14, Teamoty operates in France and abroad to improve the performance and safety of construction projects, using the Lean Construction methodology. www.teamoty.io
About Great Place To Work® www.greatplacetowork.fr
Great Place To Work® has been the benchmark for quality of life at work since 1992. Thanks to a unique methodology, employees are audited on the perception and practices of companies. Its mission: To create a better society by helping companies become better places to work.
Press contact : Claire ARNOL – Marketing Manager – claire.arnol[at]teamoty.io